Why MDB Texinov's half mask is this efficient ?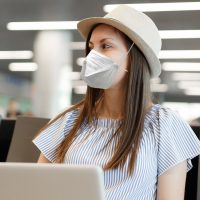 The filter materials of the TexiShield® mask provide an efficiency rate of > 99% on 0.6 micron particles ; it blocks aerosols, droplets, likely to carry successive variants of the Covid-19, but also highly toxics products like asbestos, paint, lead, fumes, etc.
Laboratory tested and certified to CE norms, for PPE – EN 149: 2001 + A1: 2009 and MD – EN 14683:2019+AC:2019 standards, TexiShield® masks have many qualities:
– compatible on all faces.
– effective in all temperatures, 8 hours a day.
– safe: only 0.42% CO2.
Ergonomic, flexible and light, they respect :
– your quality of life at work.
– the natural rhythm of your breathing.
– the quality of the sounds of your voice (even on the telephone).
Where should wear respiratory protective devices?
The PPE-DM (dual use) mask, when used in accordance with the recommendations for use, protects you with maximum effectiveness against certain occupational diseases.It is therefore particularly recommended in high-risk sectors such as construction, medical services, personal services, agriculture and industry, etc., working activities where fine dust and chemical contaminants may be present.
Specifications
2-layer non-woven mask Spunbond PP + Meltblown PP
Dimension: 240 x 90 mm
Weight: 3,9 grams
Elastic fixation behind the head guaranteed latex-free
Wearing period: 8 hours maximum recommended
Packaging:

Packed by 10 masks individualy overwraped
Packed by 25 masks individualy overwraped
Packed by 50 masks individualy overwraped
Carton of 6 300 masks (packed on boxes)

Norms:
CE marking 0082
Fast delivery in Europe.
Contact us for any details about prices.
(1) With a solid aerosol: sodium chloride; with liquid aerosol: paraffin oil)